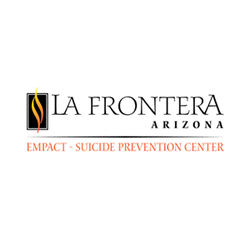 La Frontera EMPACT
ACT Psychiatrist
Tempe, AZ
EMPACT-SPC (Suicide Prevention Center), a part of La Frontera Arizona, is a nonprofit industry leader. We have been dedicated to providing valuable community resources for crisis management, counseling, and suicide prevention since 1987.
**Sign-on incentives offered up to $2000 (amount varies with position)**
We are currently looking for a Psychiatrist to lead our ACT (Assertive Community Treatment) team. The Assertive Community Treatment Psychiatrist performs specialized duties in clinical and community settings, performs mental health assessments, manages the care of patients within the field of psychiatric mental health and provides health education to these patients. This role works in a collaborative strength based, service planning team environment, performs clinically sound interventions to support client problem resolution, provides appropriate customer service, maintains appropriate, organized documentation, provides clinical consultation and serves as a source for information and referral.
The Psychiatrist may be directly hired as an employee of La Frontera EMPACT-SPC, (we will provide malpractice liability insurance) or can be hired as a contracted provider (you will be required to provide own malpractice liability insurance).
La Frontera EMPACT-SPC is a National Health Service Corp (NHSC) approved site. Primary care medical, dental and mental/behavioral health clinicians can get up to $50,000 to repay their health profession student loans in exchange for a two-year commitment to work at an approved NHSC site. Additional information regarding NHSC programs can be found at http://nhsc.hrsa.gov/
One year experience as a psychiatrist, with experience in a psychiatric inpatient unit, psychiatric emergency service, clinic or mental health center is required.
One year experience in a lead staff role is required.
One year experience with child, adolescent and/or adult mentally ill population in an outpatient setting is required. Experience working with a diverse population is required.
Must have completed either an allopathic or osteopathic medical school and have completed a psychiatry residency.
Must possess a valid Cardiopulmonary Resuscitation (CPR) /First Aid Certificate.
Must possess a valid Arizona License.
Experience working with Assertive Community Treatment program is preferred.
Must be eligible to participate in Medicare, Medicaid and other federal health care programs.
Must be eligible to be credentialed by the ADHS and Regional Behavioral Health Authority (RBHA).
Must be in possession of valid fingerprint clearance card or be eligible to obtain one.
21553467
21553467