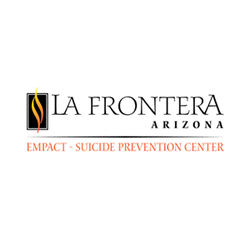 La Frontera EMPACT
Eligibility Benefits Specialist
Tempe, AZ
La Frontera EMPACT-SPC (Suicide Prevention Center), a member agency of La Frontera Arizona, is an industry leading non-profit organization dedicated to providing valued community services and resources for behavioral health counseling, crisis intervention, and suicide prevention since 1987. We are an EEO/AA Employer.
**Sign-on incentives offered up to $2000 (amount varies with position)**

EMPACT-SPC is looking for an Eligibility Benefits Specialist for our Tempe Children's Center (TCC) location with previous experience in an outpatient behavioral health setting, health care provider office or similar environment that can represent our agency professionally, treat our clients with respect and in a caring manner. The Eligibility Benefits Specialist verifies insurance benefits and eligibility to assure insurance coverage for services provided, analyzes benefit issues and recommends course of action, assist clients with AHCCCS eligibility and enrollment, verifies and updates demographic information in the electronic health record, assist on special projects as needed.
Hours: 8:00 am - 5:00 pm
Minimum of a High School diploma or GED.
Knowledge of Health Insurance Portability and Accountability Act (HIPAA) and maintaining confidentiality of protected health information.
Strong attention to detail and communication skills are required.
Computer skills including proficiency in Microsoft Office suite and experience using electronic health records (EHR) is required.
Prior experience working in a community behavioral health or health care setting is preferred.
Bilingual (Spanish) preferred.
Must have a Fingerprint Clearance Card or be eligible to obtain one.
Must be 21 years of age or older at time of employment.
101335497
101335497